Hi everyone! It's 
Mandy Koeppen
 bringing you the Thursday Sketch.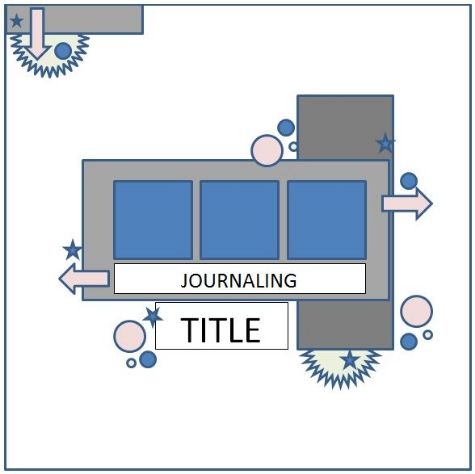 Thanks to some helpful inspiration from my favorite 
Aussie friend
 this fun and funky sketch is full of circles, layers, and arrows. It can be easily made to fit your scrapping style just like 
Jill
 and I have done.
Here is the layout I created using the sketch.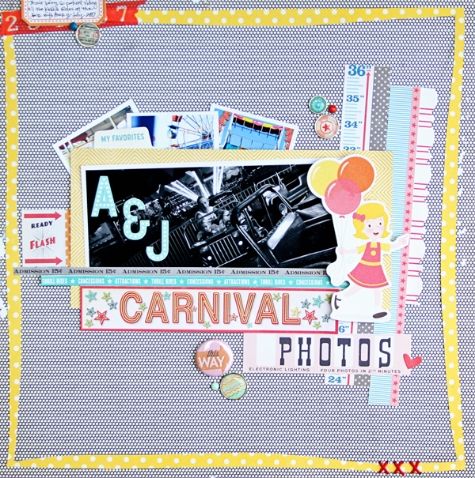 I kept the 12x12 format but decided to use a 3x6.5 inch photo and tucked the 3 smaller photos on the sketch under my main photo just to make it more me. Of course once I did that the whole layout changed but that's the great thing about sketches you can make it your own.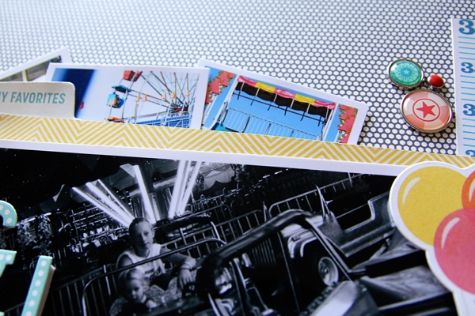 The photos I used on this layout are from a trip to the fair a few years ago which made grabbing the 
Midway
 line a no brainer when I was gathering supplies. Along with Midway I used a couple pieces from 
Travel Girl
, 
Farm Girl
 & 
Witch Hazel
 lines to create this layout.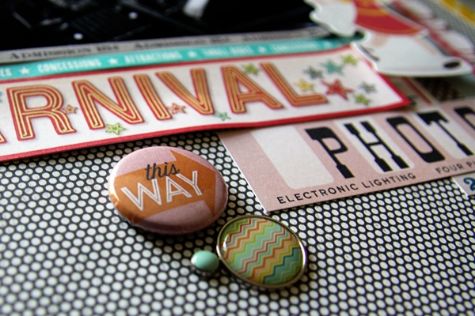 Joining me today is 
Jill
. She created this beautiful layout.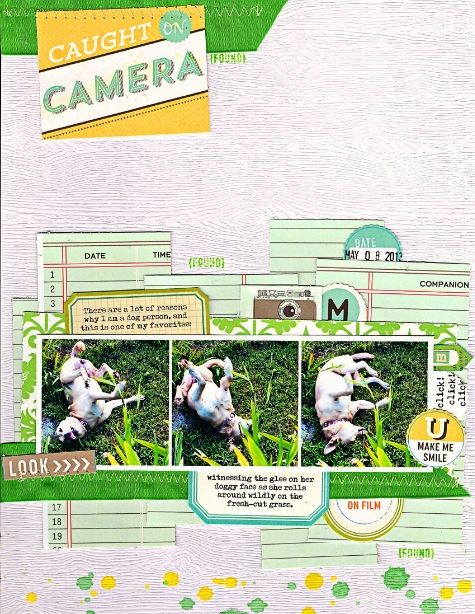 And here is what Jill had to say...
I went with an 8.5 x 11 layout for this sketch challenge, and used 
woodgrain-textured cardstock as a backdrop, since the photos were kind of earthy.
This sketch was perfect to use with the three photos I captured the 
other day of my dog rolling around in the fresh-cut grass. I could 
barely hold the camera still because I was laughing so hard -- these 
are the three photos that made the cut. When planning the layout, I 
took my color cues from the greens and yellows in the photos, and 
worked in some blues here and there, pulling together papers and 
accents from the Travel Girl and Daily Flash collections. One departure from the sketch was to back the horizontal photo mat with a series of vertical strips rather than just a single strip, adding to the light-hearted feel of the page. I also relocated the title block 
to the top of the page.
I hope you enjoyed today's sketch. If you get a chance to play along, don't forget to post your project in the 
OA Flickr group.
  I can't wait to see how you interpret it!